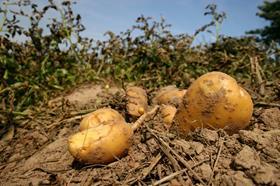 In Ulanqab, one of China's major potato production regions, growers are being provided with higher quality potato varieties grown in a laboratory.
According to a report from Xinhua, Inner Mongolia Xisen Potato is supplying millions of seedlings to growers, which is helping reduce poverty.
Wang Jianru from Inner Mongolia Xisen Potato told Xinhua the company's the laboratory as the ability to breed 150m disease-resistant seedlings every year, improving planting efficiency and quality.
'We put high-class potato stem tips into a sterile nutrient solution to cultivate virus-free seedlings,' said Wang.
The local government in the northern region of China has provided 44 households with rented greenhouses to cultivate breeder seeds. These greenhouses are capable of producing rmb15,000 (US$ 2,157) a year and two are said to be enough to lift a family out of poverty.
This programme has contributed to potato production in Ulanqab increasing in recent years with its planting area now at 267,000ha, around 8 per cent of all China's total potato planting.