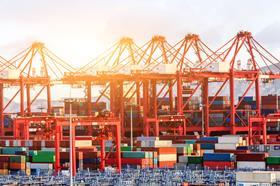 Delays at Chinese ports are hampering the delivery of Chilean cherries in the run up to the Chinese New Year celebrations.
With the campaign now entering its peak sales period, Liu Zirui, CEO of Frutacloud said demand is brisk in the Chinese market but importers are struggling to clear product at the ports as volumes ramp up.
"The biggest challenge right now is the bottleneck at Chinese ports," he told Simfruit.
"Ports are struggling to process the large number of containers of Chilean cherries. Many Chinese ports are under a lot of pressure, but their capacity is limited, so customs clearance slows down.
"Slow customs clearance delays the arrival of new cherries on the market. China's Spring Festival is almost here, and the market demand for cherries is growing."
Liu said the market prospects looked favourable for the next few weeks and FrutaCloud's volume was up on previous seasons.
"Asoex and other Chilean cherry promoters have worked hard to promote cherries this season. They increased consumer confidence in cherries," he commented.
"That is why consumers are still looking for Chilean cherries, despite the pandemic. Our import volume is much higher this year than in previous years."
Liu noted that the relationship between supply and demand is changing rapidly now that large volumes of cherries are entering the country, causing price volatility.
"Let's take the conditions of the last few days as an example: The price of a 2.5kg gift box of Chilean cherries went up 40-50 yuan (US$6.31-US$7.89). However, the supply of premium cherries still does not cover the demand."
According to Asoex, Chilean looks set to export a total of 72,367,963 (5kg) cartons of cherries this season, representing an increase of 2.6 per cent on last year.
In addition to the logistical issues, one of the main challenges facing growers and exporters this season has been increased costs.
Labour shortages in some production areas have raised the cost price of harvesting and processing. Additionally, some packers have faced a shortage of cardboard boxes, leading to a rise in packaging prices.