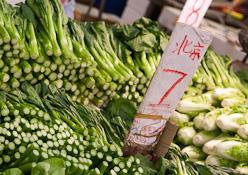 Record cold weather across China over the past few months has been pushing vegetables prices up significantly, and authorities predict prices will continue to rise in the run-up to Chinese New Year next month.
In the past 10 weeks the average price of vegetables on the Chinese domestic market has increased 55 per cent, according to figures from the Ministry of Agriculture. Prices on 27 vegetable lines have gone up 4.5 per cent just in the first week of this year.
Chinese authorities are now exploring mechanisms to reign in the price rises. The National Development and Reform Commission (NDRC) is looking at ways to reduce logistics costs, while local authorities are using price regulation funds to lower costs for consumers, reported Xinhua.
The Ministry of Agriculture is also pushing local authorities to crack down on hoarding and speculation, which have been a recurring problem for products like garlic.
Since the beginning of November, China has experienced its lowest average temperatures in 28 years, according to the China Meteorological Administration.