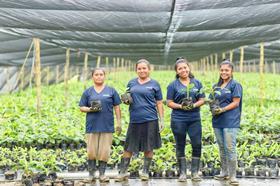 Leading global banana supplier Chiquita has released an updated sustainability report, highlighting its efforts to maintain sustainability from farm to table.
Through the company's 'Behind the Blue Sticker' approach, Chiquita had already beenimplementinga range of sustainability practices. As such, this report serves as an update to its most recent efforts.
Jamie Postell, director of sales North America of Chiquita, said the company's approach to sustainability has always been long-term, both in years past and now looking to the future.
"As a leader in the produce industry, Chiquita is committed to addressing its impact on the communities in which we cultivate our bananas, as well as the planet," Postell said.
"By implementing various initiatives that follow our long-term approach, Chiquita is able to take exemplary steps towards a more sustainable future."
Some of the sustainable solutions covered in the report include Chiquita's 'Farmers Code' which focuses on its agricultural operations and supporting communities, while its 'For the Greater Good' initiative has helped to combat TR4.
Chiquita has also held an international framework agreement with international trade union federations: the IUF and COLSIBA for the past 20 years.
Chiquita said it is because of these relationships that its wages for even its lowest paid worker exceeds a living wage by an average of 30 per cent.
In the area of women's empowerment and children's rights the report said Chiquita, undertook an independent child rights assessment developed by UNICEF in Costa Rica and Panama and the company had been working to proactively champion women's rights and work toward the elimination of gender pay gaps, taking a zero-tolerance approach toward violence, discrimination and sexual harassment.
Environmentally, Chiquita said beneficial agricultural practices had also been used to minimise the impact of its operations. Meanwhile, new practices have improved the quality of banana bunches, which has reduced the number of unsuitable bananas for export or local donation.