Leading US grower-shipper launches patriotic retail programme ahead of Northwest cherry season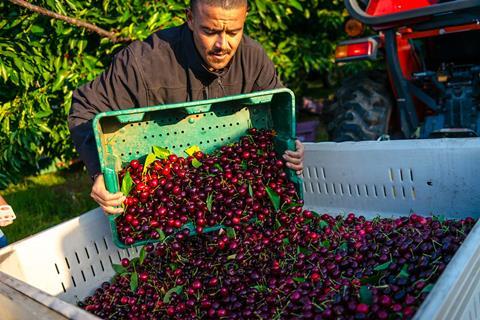 CMI Orchards has presented its newest American Dream CatStats – the latest edition of its patriotic retail promotion programme – as it gears up for the "high-velocity sales" that come with the upcoming cherry season.
The leading Washington State-based grower-packer-shipper said its American Dream programme – first launched in 2018 – was "born from a desire to create something powerful and proudly American", adding that it drives sales throughout the year.
Rochelle Bohm, vice-president of marketing, said the patriotic programme is two-pronged in its approach.
"American Dream stirs-up excitement in the produce department by tying in to some of America's most important holidays," she said, "and it also honours and gives back to those that have served and sacrificed. This doubles the programme's impact and extends its reach from local and regional events to a national level."
The American Dream programme donates a portion of the proceeds from the sale of each carton to a cause that supports veteran and military groups of the retailer's choice, according to CMI. The organisations already supported include Operation Homefront, Wounded Warrior Project, Soldiers' Angels, and Vets Serving Vets, among many local community programmes, with donations being made in the name of the participating retailers.
The American Dream CatStats presents a tool kit for retailers with information on how to customise displays, set up stores, and other merchandising tips. It also includes packaging statistics and demonstrates how packaging can increase sales.
Cherries: capturing impulse purchases
Bohm said the dual-impact nature of the programme is especially effective during patriotic holidays and the summer season, with engaging graphic displays and eye-catching packaging to lure in shoppers.
"American Dream is especially effective during the Northwest cherry season, where capturing impulse purchases is so crucial. Savvy retailers who want to engage high-velocity sales can capitalise on this programme and drive sales to help carry their produce departments throughout the year," said Bohm. "Planning ahead and securing variety, volume and secondary displays in anticipation of repeat shoppers is critical."
CMI's senior marketing manager, Danelle Huber, said the seasonal excitement brought on by cherry harvest each year is only part of the equation, and that American Dream is a programme that cleverly positions retailers to sustain engagement and interest in the produce section throughout the year.
"With a number of patriotic holidays on the calendar, shoppers are always looking for a reason to celebrate," she said. "Nielsen Retail Federation reported in 2020 that 65 per cent of consumers planned to purchase patriotic-themed merchandise during the Independence Day holiday, and that holiday-optimized package designs can generate an average of a 5.5 per cent lift in forecasted revenue."
Huber said CMI "works hand-in-hand with retailers", tailoring the programme and finding meaningful contributions that support events important to their communities.
"The American Dream programme is highly customisable, so retailers can build out a programme that's going to work the best for them," she said. "Even the give-back component can be personalised, with retailers able to choose any local, regional, or national cause that really aligns with their company or customer base."