Aboitiz Group's Fresh Depot project deploys modular and sustainable cold storage units to serve Philippine agriculture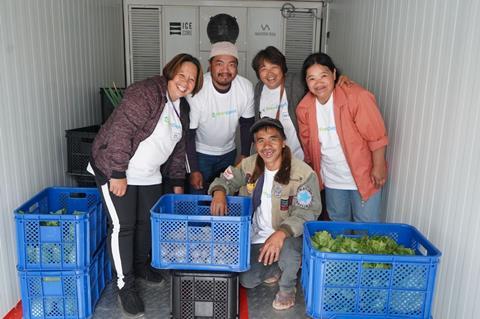 Philippine fresh produce growers have gained access to enhanced cold chain logistics after Aboitiz Group's Fresh Depot deployed modular and sustainable cold storage units across key growing regions.
Fresh Depot – the latest transformation project from the Philippine Techglomerate – aims to revolutionise the agricultural industry by providing a physical and digital solutions platform for farmers in the country, with decentralised and eco-friendly cold storage as its springboard.
The project aims to future-proof Philippine agriculture and empower farmers by providing them with cutting-edge infrastructure and sustainable solutions.
Its mission is to enhance the value chain for agricultural products, reduce post-harvest losses, and maximise farmers' crop yield, ultimately strengthening farmers' livelihoods and contributing to the nation's food security.
Aboitiz Group's chief transformation officer Emilie Sydney-Smith said the first units had be deployed in Mankayan, Benguet, and the Nueva Vizcaya Agricultural Terminal.
"Last year marked the beginning of our bold great transformation initiative across the group. We set out to generate fresh ideas and innovative solutions that could make a real difference to the lives of Filipinos, and we have since created a pipeline of incredible projects that align with this vision," said Sydney-Smith.
"Our latest milestone is the launch of our second pilot site in partnership with the Nueva Vizcaya Agricultural Terminal. Together, we aim to build the first ever all-round physical and digital solutions platform for farmers in the Philippines. Our ultimate goal is to prevent any waste of fresh produce or farmer effort, and to achieve our Massive Transformative Purpose of supporting Prosperous Farmers Feeding the Philippines."
Fresh Depot utilises advanced cooling systems and energy-efficient technologies to cool fresh produce that minimise carbon emissions and reduce its environmental footprint. By adopting these eco-friendly measures, Fresh Depot aims to set a precedent for the industry, proving that economic growth and environmental responsibility can go hand in hand.
Fresh Depot aims to go beyond just being an exemplary cold storage facility by actively supporting local communities and ecosystems. By enabling the development of extension services and knowledge-sharing initiatives, Fresh Depot empowers farmers with the skills and tools needed for sustainable and effective agricultural practices.