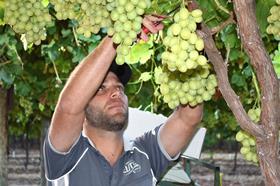 Australian table grape exporters continue to turn to existing relationships to meet the ongoing demand for their product in Asia, but new promotional efforts will help them explore further opportunities this season.
According to a report from Austrade, demand and prices for Australian table grapes in China remain high.
Asia's largest market accounts for the majority of Australia's table grape exports and growers such as Rocky Mammone and Tim Milner have said China continues to be important.
"We are still shipping every day to China," said Mammone. "We have developed really good long-term relationships and friendships with our customers over more than ten years and they remain solid."
He has a positive and beneficial relationship with his Chinese buyer. He met his buyer during a visit to Sunraysia by a Chinese delegation in 2015.
Milner, who has worked with his Chinese buyer since they visited the Sunraysia growing region in 2015, said he has learned immeasurable lessons during his time exporting to the world's largest market.
"We have spent a lot of time learning and understanding what buyers and consumers in China want. We have worked closely with our buyer to refine our presentation and taste," Milner said.
"It has given us a better understanding of the needs and wants of such an important market. In turn, it has improved the quality of our fruit and our ways of growing and exporting."
Mammone said the size and relative stability of the China market has also allowed growers to grow, invest and diversify to new markets.
Besides China, Mammone exports to Korea, Japan, Indonesia, Singapore and the Middle East. Mammone is part of a new Austrade campaign that promotes and connects international buyers to Australian producers.
Videos featuring Mammone and his operations will be rolled out in priority markets across ASEAN through April 2022.