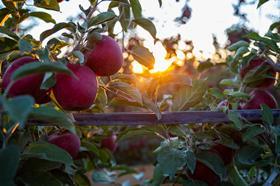 Production of Cosmic Crisp, the Washington apple industry's new proprietary variety, has continued to ramp up in the 2021/22 season, despite the effects of a brutally hot summer.
Latest estimates put production at 3.53m cartons (18.5kg) in 2021, more than doubling the 2020 crop of 1.41m cartons. Volumes are forecast to take off in the next three years, with projections that production will reach 12.56m cartons in 2024, and top 20m cartons by 2029.
Kathryn Grandy, chief marketing officer of Proprietary Variety Management (PVM), which oversees industry promotions for Cosmic Crisp, said fruit quality has also weathered the heatwave well.
"Our fruit quality is excellent this season thanks to a number of factors," Grandy told Fruitnet. "The timing of the Cosmic Crisp harvest was key, and most growers who had damaged fruit did not turn [it] into their warehouses. Sophisticated defect sorting at the packhouse level sorts out almost anything else."
Fruit size is peaking on larger diameters this season, a syndrome particular to young trees but also reflective of Cosmic Crisp's natural tendency to produce large fruit with its Honey Crisp parentage. "We expect that as the vigour settles, sizing will settle down one or two sizes," she said.
Cosmic Crisp is attracting growing interest in Asia, according to Grandy. The industry has exported to China, Vietnam, Malaysia, Thailand, and Indonesia as well as other destinations although she noted that container shortages and shipping issues have made it difficult to increase exports this year.
The Cosmic Crisp marketing team is scheduled to attend Asia Fruit Logistica this year to meet with customers, conduct sampling and organise promotions while in South-East Asia.