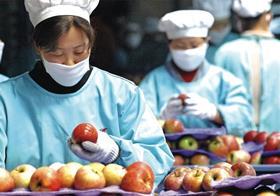 China's apple exporters have seen sales drop in South-East Asia, their largest market, as Covid-19 outbreaks dampen local economies.
According to a report from the Global Times, exporters have faced poor sales and prices as they have tried to find a market for their harvest.
Li Guoping, manager of Qixia Lewang Vegetable and Fruit Company in East China's Shandong Province, said that orders from South-East Asia have dropped 60 per cent this year, causing severe losses.
'Last year I bought the apples from farmers at Rmb6.4 (US$1) per kilogram but the current price has dropped to Rmb3 per kilogram, the lowest in decades,' Li told the Global Times.
'If the farmers sell the apples at the current price, there is little profit from their hard work throughout the year."
Li said increased production in 2020, early hoarding by growers and export challenges have caused prices to drop.
'I could have sold all the apples harvested last year by May but this year I still have one third left. I have nearly 1,000 tons of apples in stock,' Li said.
South-East Asia accounts for the majority of China's apple exports, but demand has decreased, and supply chains have been disrupted as a number of countries have introduced restrictions to combat Covid-19 outbreaks.
In the past month cases have spiked in Vietnam and Thailand while Malaysia and Singapore have introduced lockdowns.