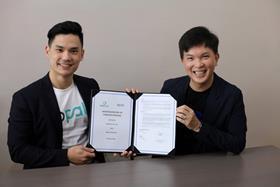 Singapore-based companies DiMuto and Opal, a Major Payment Institution (MPI) licensed by the Monetary Authority of Singapore (MAS), have announced a partnership that will provide payment services on the blockchain-powered DiMuto Platform.
In collaborating, the two companies will combine their strengths to innovate and transform the future of payments and financing in the agrifood trade space.
Opal's expertise in international payment, multi-currency wallets, FX management and financing solutions will complement DiMuto's strong network of agrifood clientele, robust trade digitalisation technology and capability to collect asset- based data.
DiMuto and Opal will develop a new first-of-its-kind payment module that will allow DiMuto's agrifood customers to make payments directly tagged to the movement of goods on the DiMuto platform, creating visibility of both the movement of goods and money for physical agrifood products tracked with DiMuto's existing trade digitalisation technology.
The DiMuto payment module taps into Opal's expertise in servicing small-medium enterprises (SMEs) with payment and financing solutions.
Opal aims to be One Account for Payments and Loans (Opal) for SMEs, by simplifying payment processes, lowering fees and providing easier access to financing.
Opal said it is able to facilitate safe and secure cross-border transactions in over 100 financial corridors with multi-currency accounts and competitive FX rates that are cheaper than conventional banking methods.
With the new DiMuto payment module, DiMuto's agrifood customers will be able to conduct transactions that are in full compliance with Singapore regulations and international standards.
"We are excited to bring our experience in the financial, payments and technology industry to the collaboration with DiMuto," Lim Ming Wang, co-founder and chief operating officer of Opal.
"The partnership gives Opal an opportunity to reach more small and medium businesses globally, particularly in the agrifood and perishables trade, that have not been serviced by traditional banking institutions. We look forward to helping them accelerate growth with complex payments made easy," added Wang.
Gary Loh, founder and chief executive of DiMuto said his company's vision is to power global agrifood trade with visibility. "We have built a powerful platform that combines IoT, cloud, blockchain, and AI technology in our journey to bring visibility to global trade," explained Loh.
"By partnering with Opal to enable direct payments on our platform, we are moving closer to this goal as this creates a complete solution tying the movement of goods to the movement of money. With this, we can transform global trade by tackling the financing needs of the unbanked agrifood market."