Official launch ceremony held at Shanghai Huizhan Wholesale Market for first batch of Dole Golden Puyat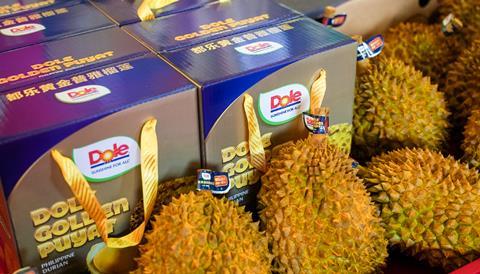 Dole China has celebrated the first shipments of Philippine durian to China with an official launch for its Dole Golden Puyat offering.
The first batch of Dole Golden Puyat durian arrived by air on April 7 and the first sea shipment arrived on 20 April.
Upon the arrival of the first sea shipment, Dole China held an official launch ceremony for Dole Golden Puyat durian at the Shanghai Huizhan Wholesale Market.
At the ceremony, Dole China also signed a memorandum of understanding (MOU) for the sales of Dole Gold Puyat durian in 2023 with its long-term partner Shanghai Wonong. The annual transaction volume is expected to reach 2,000 tonnes.
General manager of Dole China Yang Zhenyu spoke at the ceremony and welcomed the arrival of Philippine durian to the China market.
"We are full of confidence in the sales of Philippine durian in China. We believe that Dole Gold Puyat durian will soon become a new choice for domestic durian lovers, driving a new round of durian consumption boom," Yang said.