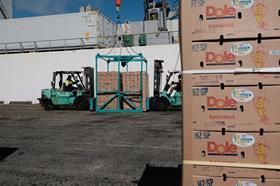 Dole New Zealand has welcomed the 750thshipment of its bananas, pineapples and papaya into New Zealand from the Philippines.
The arrival of the Pacific Magnolia reefer into Auckland and Lyttelton in December 2021 represented a significant milestone for Dole New Zealand, as well as MG Marketing, the exclusive importer, distributor and marketer of Dole Fresh Produce.
The ship, carrying more than 50,000 cartons of fruit, was brought into the Auckland port by transport partners Fresh Carriers and their New Zealand-based agents Oceanic Navigation.
Steve Barton, general manager of Dole New Zealand said since the first shipment arrived in New Zealand in 1993 more than 71m boxes of bananas and 12m cartons of pineapples had been imported from the Philippines.
"Dole NZ is committed to building lasting relationships with our partners and Kiwis have benefitted immensely from the partnership we've forged with Fresh Carriers and their New Zealand-based agents Oceanic Navigation, along with distributor MG Marketing, for almost 30 years," said Barton.
"It's long been rumoured that Kiwis consume more bananas per person than any country and judging by the fact we've imported over 900m kilograms of bananas since 1993, I'd say that there's truth to that rumour.
"Our Tropical Gold Pineapples and Dole Paw Paw are also incredibly popular among New Zealanders – around 130m kilograms have been brought into the country over the years."
Pacific Magnolia's cargo included 15,000 boxes of bananas, 32,000 cartons of pineapples and 3,000 boxes of papaya all destined for New Zealand supermarkets.
Stephen Black, shipping manager of Oceanic Navigation, said it had been a fruitful partnership with Dole that had severed New Zealand consumers well.
"Dole has been a key shipping partner for Fresh Carriers and Oceanic Navigation for many years and we're really proud to have a role in bringing some of the biggest selling grocery items into the country for the Kiwi consumer," said Black.
"We're looking forward to continuing to work with Dole to deliver their fruit to even more consumers in the years ahead."
Fresh Carriers own a fleet of dedicated refrigerated ships that carry the tropical fruit directly from Davao in the Philippines to Auckland and Lyttelton with a transit time of only ten days.
Recently the company has added three brand new ships purpose built for the New Zealand trade.