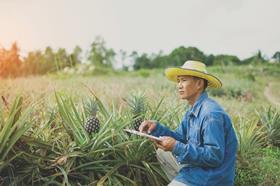 Dole Sunshine Company has revealed plans increase its pineapple production in the Philippines alongside a number of other investments.
In an interview withBusinessWorld, Christian Wiegele, president of the Fresh Produce Group of Dole Sunshine Company, said the company intends to expand its operations in the Philippines.
"We are working together with our local teams, local municipalities, and local partners to increase our hectares for pineapples. The same goes for other selected produce," said Wiegele.
"We definitely plan to continue investing and growing our business here in the Philippines across the whole brand portfolio."
Wiegele said Dole Sunshine Company was preparing to open a new packhouse in northern Mindanao and grow papaya and avocado. He also touted investments in employee training, biofuel, artificial intelligence technology and drones.
"There are some exciting plans on repurposing our waste and some tangible benefits we are investing into biofuel, which will repurpose banana waste, pineapple waste into biofuel," Wiegele said.
Wiegele said the company had significantly increased the funds allocated for capital expenditure compared to last year with the aim of servicing international markets and the Philippines.
"One of our commercial strategies is not only to grow our products in the Philippines, but also to offer those products to Philippines' operations," he said.
"That is one of the opportunities that we have, not only to grow and export, but also offer these products to the Philippines itself as a market, a very important market in Asia."