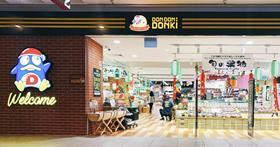 Japanese discount retailer Don Don Donki, known as Donki, looks on course to make its Taiwan debut, with a new 24/7 store rumoured to be opening in the popular shopping destination of Ximendeng in Taipei.
Inside Retail reports the company is yet to reveal the location or the opening date of the store, however job advertisements seeking up to 400 employees have all but confirmed the company's expansion plans.
Don Don Donki is a discount chain store which carries a wide range of products, from basic groceries to electronics and clothing. It has over 160 branches in Japan, Hong Kong, Singapore, Thailand and Hawaii (US) and is said to be a popular store for Taiwan residents to visit when travelling.
The retailer launched a free international shipping promotion on its e-commerce platform last year, which has helped build the brand's appeal among Taiwanese consumers.

Meanwhile, Don Don Donki's fifth Hong Kong outlet of 2020 is expected to open in Central by October. Its owner, Japanese group Pan Pacific, has been aggressively expanding within the Asian region in the past year.