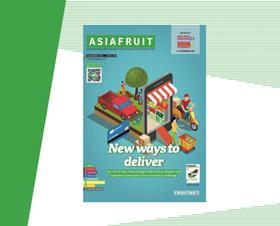 The latest edition of Asiafruit, the Asia Fruit Logistica ON and Asiafruit Congress ON special, is now available on the Asiafruit app.
We are making this special issue of the magazine available to viewfor free on our app for a limited period. Download the app to your smartphone or tablet from the App Store or Google Play.
The app is free to download and allows anyone to access Asiafruit November and our news feed, with the latest fresh produce stories, videos and podcasts. Asiafruit subscribers will also have access to previous editions of the magazine.
After the free trial has ended, you can subscribe to Asiafruit for just US$220 a year. This includes 10 print copies of the magazine and digital access for a year.
Previewing Asia's premier fresh produce events
In Asiafruit November, we preview Asia Fruit Logistica ON and Asiafruit Congress ON, the new digital formats of Asia's leading fresh fruit and vegetable trade show and conference event.
The coverage provides an overview of everything on offer at Asia Fruit Logistica ON, including profiles of some of the exhibitors from over 30 different countries showcasing their products and services at this year's event.
The programmes for Asia Fruit Logistica ON's daily online Hall Forums are also broken down, with readers introduced to the speakers and topics for the Asiafruit Business Forum, Smart Horticulture Asia and Coool Logistics Asia.
For the first time this year, Asia Fruit Logistica ON attendees can attend Asiafruit Congress ON for free, and the edition highlights the high-powered speaker lineup, which primes the Asia business for new opportunities and challenges post-Covid.
The latest news and insights
This edition of Asiafruit also includes the latest news and views on Asia's fresh produce markets from across the global industry.
Our Fresh Focus South African Table Grapes supplement takes an in-depth look at the rapidly growing supplier with a keen interest in Asia.
In our South-East Asia market spotlight, we interview importers and retailers across Singapore, Malaysia, the Philippines, Vietnam and Thailand about how they've been adapting to the effects of Covid-19.
A theme that crosses over into a number of stories is the increasing role of technology in the fresh produce industry, from e-commerce to vertical farming.
For all this and more, make sure you download the app to your smartphone or tablet from the
App Store
or
Google Play
today!