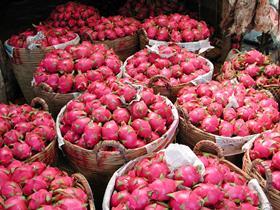 Vietnam's fruit and vegetable exports reached US$629m in the first five months of 2015, up 17.8 per cent compared to the same period last year, according to Vietnam News.
Dragon fruit was the leading exported fruit with 900,000 tonnes shipped during the five months, followed by watermelon, longan and bananas.
Major export markets include the US, the Netherlands, China and Japan, as well as South Korea, Russia and Singapore.
More recently, Vietnam has clinched market access for litchis in Australia, France, and the US – a boost for the industry after losing market access to China last year.
Vietnam's Fruit and Vegetable Association (Vinafruit) has predicted that this year's country's total fruit and vegetables exports will top 2014's US$1.47bn, and possibly hit US$2bn.