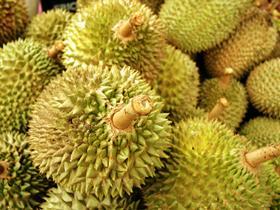 Malaysian durian producer, DSR Group, is planning to expand its Musang King durian orchards by over 180 hectares by 2025.
The company currently has 18.6 hectares of Musang King durian orchards, and is aiming to increase that to 202.3 hectares within five years.
The eagerness to expand, according to Bernama, Malaysia's national news agency, is due to export sales returning to normal and an expected rise in demand for the company's downstream durian products.
Co-founder Datuk Ng Lian Poh said the expected costs for the crop expansion, mainly in Raub, Pahang vary, especially for matured orchards and it depends on market demand and supply.
"They are also subject to other factors such as size, terrain and other conditions," he told Bernama.
Currently, DSR Group, which was set up in 2017, has allocated one-third of its durian supply for the domestic market, while the remaining quantity will cater to the international markets.
The group also aims to distribute downstream durian products to the overseas markets via Daily Fresh Foods Group in the near future.
"We want to ensure that the whole nation can experience these downstream durian delights anywhere they go. That is why our partnership with Daily Fresh is so important," said Ng.
"By leveraging their state-of-the-art facilities and wide sales and distribution channels, we are able to create a sustainable supply of downstream durian products all year round.'
Last month, DSR inked a collaboration with Daily Fresh to retail speciality durian-based products made from authentic Musang King durians that will be sold via over 1,600 Daily Fresh outlets across 16 countries, including Malaysia.
The flagship store will be launched in Bentong, Pahang in April, and will sell fresh authentic Raub Musang King durians and specialty durian products.
In addition, Ng said the group wants to change the customers' mindset through its motto 'Origin Matters', a tagline encapsulating the conception that Musang King durians have to come from Raub for the best quality.
"We want to enhance the brand awareness of DSR as the first and legitimate 'orchard-to-market' durian provider in Malaysia," he said.