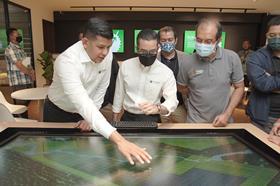 Durian Capital has announced the launch of Malaysia's first licensed durian investment scheme aiming to raise M$56m (US$13.4m).
The scheme was launched under the Companies Commission ofMalaysia (SSM) Interest Scheme Act 2016 and Durian Capital has access to 230ha with the potential to host 22,800Musang King trees.
According to a report from Bernama, managing director Vijay Pillai said phase one of the scheme covers 80ha and Durian Capital had already planted 64ha of Musang King durian as of October 2021 with the first harvest expected in 2026.
"So far we have reached M$3.6m with 360 units sold to local and foreign investors in October 2021," Pillai said.
Chief executive officer Afiq Johar said Durian Capital has enlisted an experienced agricultural team, which will be supported by technical advisors from Universiti Putra Malaysia. Modern agri-technologies such as smart irrigation, drone surveillance and data analytics will also be utilised.
Johar said the global demand for durians is expected to increase, especially as more markets become available.
"Much of this growth will be driven by strong market demand in China, where the fruit has gained traction," he said.
"We are also looking to explore new markets such as Singapore, India, the Middle East and Australia to become more accessible in international markets."