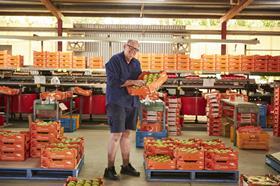 The Queensland state government has announced a new programme to hel exporters sell their products, including fresh produce, online to overseas customers.
The new A$400,000 (US$303,960) E-commerce Grants Programme will offer up to A$10,000 (US$7,600) to exporters from the Australian state that already have an e-commerce deal but want to ramp up their online activity in key export markets.
Queensland is home to key growing regions for a number of Australian fresh produce exports including mangoes. Townsville-based mango grower Manbulloo has been using e-commerce for the past five years and now sells its mangoes through digital channels in Korea, China, Canada and the US.
Scott Ledger, export manager of Manbulloo, said with limited availability and higher cost of airfreight in 2020, the company needed to add value to its products to maintain export volumes and returns and e-commerce provided the answer.
Ledger said the company targeted two e-commerce platforms in Korea, with help from Trade and Investment Queensland, and sold A$100,000 (US$76,000) worth of R2E2 mangoes in just one hour on the GS Home Shopping Channel in November 2020.
"Using e-commerce, consumers will pay more because they value the convenience of buying online and the freshness of the product delivered to their home," Ledger said.
"An extra benefit of e-commerce is the direct engagement with consumers and the feedback you receive on how your product is performing."
Ledger said Manbulloo was also focused on innovation and was currently working with the Queensland Department of Agriculture and Fisheries to develop real-time temperature monitoring systems to predict shelf-life.
"Exporting provides us with another way to grow our business and provides us with opportunities to innovate in the supply chain," Ledger explained.
"The information and encouragement we have received from government has been critical to our export development, specifically in terms of understanding the market dynamics and developing product-handling systems.
"With this kind of support, we're always looking at ways to build on what we're doing and continue to innovate and expand."
Annastacia Palaszczuk, Premier of Queensalnd, said the programme was part of the state's Covid-19 recovery efforts.
"E-commerce is booming all over the world as more consumers in more markets see value in the convenience of online purchasing and home delivery, so there's an opportunity for Queensland exporters to use e-commerce to achieve higher returns," Palaszczuk said.
"This grants programme helps with the cost of executing a new e-commerce initiative and is just one of many ways my government is assisting businesses to recover from the disruptions caused by the pandemic.'