Seed company honours 40 'farmer-heroes' as it marks four decades since establishment
East-West Seed celebrated its fortieth anniversary in the Philippines by honouring 40 local 'farmer-heroes'.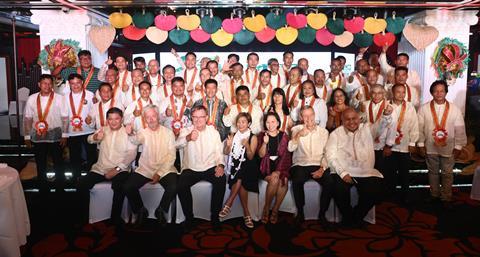 East-West Seed was founded in Lipa City, Batangas in 1982 by Filipino seed trader Benito Domingo and Dutch seedsman and World Food Prize Laureate 2019 Simon Groot. The company has expanded to 14 other countries in Asia, Africa, and Latin America and has served over 23m farmers worldwide.
To mark the past four decades of operation the company recognised 40 farmers for achieving success in vegetable farming, making significant contributions to their communities, and demonstrating innovativeness in adopting new technologies in farming.
Jay Lopez, East-West Seed Philippines' general manager, said the company saw these farmers as s role models to other people in showing how vegetable farming can enrich lives.
"At East-West Seed, we believe that the farmers are our heroes. Because of their hard work we have something to eat every day. We want to give our farmers the honour and recognition that they truly deserve," shared Lopez.
Lopez said that through the farmer-heroes' success stories, they hope to inspire others to choose vegetable farming as their careers.
"Since I planted Macho sweet corn, my life has become sweeter too! Because of sweet corn, I got many firsts – first time to go to Manila, get on a plane, sleep at the Shangri-La Hotel, have my own car," said Rubisper Udal from Bukidnon, one of the 40 farmer-hero awardees.
"The things I never dreamed of, the things I thought that would only come true in my dreams, became a reality because of God's mercy and sweet corn."
The award ceremony was followed by a vegetable demo field day in Hortanova Research Center, Lipa City, Batangas for farmers and their business partners.
Aside from the company's top varieties that have helped increase the income of farmers for many years, the demo field also included exciting and unique vegetable varieties such as Morado purple corn, Sophia butternut pumpkin, and Ilocana short ampalaya.
"Most of our vegetable seed varieties are bred here in the Philippines to ensure that they will grow well under our country's growing conditions, address Filipino farmers' needs, and suit the taste and preferences of the Filipino consumers. Our varieties also give higher yield and are more resistant to pests and diseases," said Lopez.