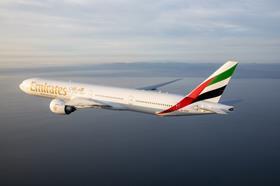 New Zealand fresh produce exporters utilised Emirates SkyCargo's services to continue to reach international markets during the height of the Covid-19.
Emirates SkyCargo has revealed it transported of 4,000 tonnes produce and food items from New Zealand in 2020.
The air cargo carrier worked with the New Zealand government's International Airfreight Capacity (IAFC) scheme to deliver 650 flights to close to 200 global destinations.
The country's horticulture industry was one of the benefactors of the scheme as it helped fruit and vegetable exporters stay connected with their markets.
Emirates also employed 'Emirates Fresh', a specialised product it used to ensure that perishables retained their freshness during transport.
Currently Emirates SkyCargo offers cargo capacity on six flights a week from Auckland and one flight a week from Christchurch and commitment Nabil Sultan, Emirates' divisional senior vice president, cargo made during the height of the pandemic in 2020 remains the same.
"Emirates SkyCargo is delighted to working with the Government of New Zealand to help connect fresh produce of the highest quality and other key exports from Auckland and Christchurch," said Sultan.
"We consider it our responsibility to ensure that we are able to facilitate adequate supply of food and other essential commodities to markets that we serve and also support exporters in New Zealand at the same time."