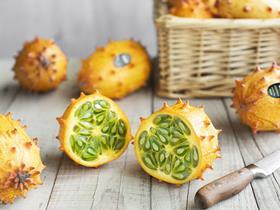 New Zealand growers Enzed Exotics are looking ahead to a strong 2021 season for its premium Kiwano.
The family-owned business, based in the Bay of Plenty, exports its premium product to the US and other international markets.
Enzed Exotics' Renee Hutchings said "perfect growing conditions" were evident in the high quality and quantity of the early fruit, as well as the overall plant health.
"Our summer has been hot and mostly dry, with intermittent rain to keep the plants healthy – just how Kiwano like it."
Hutchings said Enzed Exotics was aiming to grow the profile of Kiwano, and help more people discover its health benefits.
"Kiwano is hydrating, very low in calories and contains essential nutrients that help to both energise and balance the body. It's a source of magnesium, which can help to reduce tiredness and relieve muscle tension, potassium for optimal muscle function, and dietary fibre for bowel health," she explained.
"It's a fun fruit that also makes you feel good. It has a refreshing flavour which means it's very versatile – the green pulp inside a Kiwano can be used in anything from salsas to sauces, on tacos, in cocktails, smoothies or scooped on top of yogurt and ice cream."
Last year Enzed Exotics was purchased by KAMMI Produce, a family-owned and run business with over 30 years' experience in growing Kiwano in both New Zealand and California.
Enzed Exotics New Zealand Kiwano is grown and packed for export near Te Puke, an area also known for kiwifruit, manuka honey and dairy.
"We only grow Kiwano and are hands-on in every aspect of our growing and packing processes right through to export. This ensures our customers receive the premium quality fruit our brands are known for," added Hutchings.
Kiwiberry season also tracking strongly
The high summer temperatures and long hours of sunshine in the Bay of Plenty region, where the largest hectares of kiwiberry are grown, has given the New Zealand kiwiberry industry confidence of a good crop for the 2021 season.
Geoff Oliver, chairman of the NZ Kiwiberry Grower Association, said: "As growers we endeavour to produce the highest quality fruit possible, it looks like 2021 is going to be another good season for great tasting high quality fruit.'