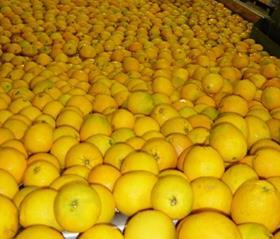 The heads of key horticultural bodies and high-ranking South African government officials have met with European Union (EU) agricultural commission representatives to discuss a potential ban on imports of citrus from South Africa over concerns regarding Citrus Black Spot (CBS) disease.
The chief executive of Citrus Growers of South Africa, Justin Chadwick, and the chief executive of Citrus Research International, Vaughan Hattingh, were in attendance at the meeting last week.
Copa-Cogeca, an association of European farmers and agri-cooperatives, has strongly lobbied the EU to argue that CBS poses a contamination risk to European produce.
The EU has subsequently responded by implementing a threshold of five detected cases of CBS, after which it states it will ban imports entirely.
"This is an extremely low tolerance threshold," Andrew Harty of Citrus Australia told Asiafruit. "It presents a major difficulty for South African growers and exporters as CBS only shows up once fruit has been picked and stored. This means they can only tell if the fruit has it once it has already been shipped to Europe."
South Africa typically ships about 22 per cent of its citrus export crop to the EU. Given growers anticipate harvesting a 100m carton crop this year, losing European access would be a huge blow to the industry and leave growers and exporters desperately searching for other markets for their produce.
This is a concerning development for the Australian citrus industry, which could see its traditional growing markets in Asia threatened by cheaper South African imports.
"Some of these markets, particularly Japan, are already quite full," said Harty. "It doesn't take much to oversupply the market and send prices crashing."
The EU's decision comes as the US government has relaxed its restrictions on produce from regions with CBS, now accepting produce from more South American countries such as Uruguay.
Chadwick has urged EU officials to recognise that fruit is not a pathway for the disease and will not pose a viable transmission risk.
"This is not only the dominant scientific view," said Chadwick, "it is also corroborated empirically by the fact that CBS is not present in the EU after over 100 years of trade with South Africa or in any region with a Mediterranean climate in countries such as South Africa or Australia.'
Shortage fears
Harty strongly supports this view and emphasises that, alongside citrus growers and exporters marketing their produce to Europe, it is consumers themselves who will lose out.
"While there are major citrus producing countries within the EU such as Spain, Greece and Italy, these are unlikely to be sufficient to provide a continuous supply to meet demand year-round," he told Asiafruit.
While South Africa being locked out may herald an opportunity for Australian citrus growers to look at exporting to the EU, Harty stated that this prospect is fraught with difficulties.
"By sea, it's a 35 day transit for produce from Australia to Europe," he said, "so the sheer distance makes it a difficult market. Also, the strong Australian dollar would elevate costs for consumers."
Harty did emphasise, however, that Australia would not have difficulties meeting the EU's phytosanitary restrictions, as CBS is isolated to Queensland and the Northern Territory only and the majority of the country's citrus production is in southern Australia.