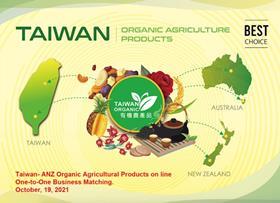 After many consultations and on-site verification between the governments of Taiwan and Australia/New Zealand, both reached a bilateral agreement on organic equivalence, which was signed by the representatives of the parties in 2020.
Based on the agreement, Taiwan can import organic processed agricultural products to Australia/New Zealand, the major organic nations, allowing Australia/New Zealand consumers to taste the flavours from Taiwan.
This mutual verification allows Taiwan, and Australia/New Zealand traders, to deepen their understanding of organic agriculture and further promote the cooperation between the two sites.

Taiwan's genuine organic agriculture is endorsed by and labeled with the Taiwan Organic Mark, which has been used to recognise organic agri-products since 2019 when the 'Organic Agriculture Promotion Law' was implemented. This mark is promoted by Taiwan's government to display diversified organic agri-products from Taiwan.

Organic agriculture is an agriculture that adheres to the principle of recycling and sustainable use of natural resources, does not allow the use of chemical synthetic substances, emphasises the management of water and soil resources and ecological balance, and achieves the goal of producing natural and safe agricultural products, which can be seen as Taiwan conforming to the principle of ecology and sustainability in terms of production methods.
Taiwan's agricultural products are of high quality and well-loved tastes, and are already world-famous. Coupled with the organic equivalence agreement and the United Nations sustainable development goals, they are naturally one of the best choices for ANZ companies to market.

With bountiful produce every season, the country is well known for its production technologies, innovation efforts, and quality management in agriculture.
'Made in Taiwan' (MIT) organic agricultural products and processed food are popular on the global market for their distinctive, novel, high quality, and multiple international certifications.
Taiwan, located in the Northern Hemisphere, and Australia/New Zealand, located in the Southern Hemisphere, are seasonally opposite. Therefore, the various agricultural products of the two places have complementary effects.
After the signing of the agreement, since the re-certification process was eliminated, the speed of import and export has been accelerated, so that consumers in the two places can immediately enjoy rich and organic agricultural products.

With the signing of organic equivalence agreement, 'Taiwan-ANZ Organic Agricultural Products online One-to-One Business Matching' (http://twgoods.live/)" will be held on 19 October to generate more organic partners from Taiwan and ANZ.
The day-long event includes briefings of nine Taiwanese suppliers, followed by the one-to-one business matching with prior arrangement.
Registered buyers can obtain the exclusive profile of Taiwan suppliers in advance and choose the products and services which they may be interested in. Plus, Taiwan's organic products will be as a courtesy delivered to registered buyers to taste for free.
Check the business matching, schedule, companies at http://twgoods.live/. Sign up now for Free.