Exhibitors can now register online for Asia's premier fresh produce trade show, which returns to Hong Kong on 6-8 September 2023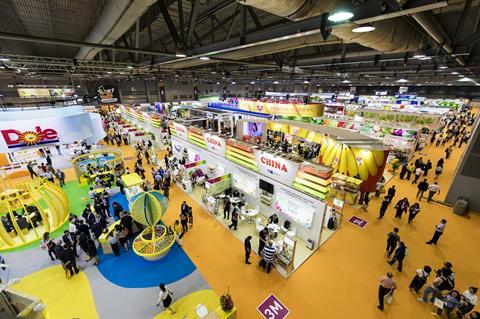 Asia Fruit Logistica and Asiafruit Congress are heading back to Hong Kong in 2023. Asia's leading fresh produce trade show and conference event take place together at AsiaWorld-Expo on 6-8 September 2023.
Exhibitors can now register online to book their stand for Asia Fruit Logistica 2023. Organiser Global Produce Events (HK) Co (GPE) said exhibitors must register by 28 February 2023 to be considered in the first round of hall planning.
Asia Fruit Logistica 2022 attracted almost 10,000 trade visitors from over 70 countries, with 420 exhibitors from 42 different countries and regions showcasing their products and services at the event in Bangkok, according to GPE.
Exhibitor survey results revealed that 87 per cent of exhibitors gave a positive assessment of the number and quality of trade visitors at Asia Fruit Logistica 2022, and 84 per cent of exhibitors were satisfied with their participation at this year's trade show.
"We had a very positive experience at Asia Fruit Logistica, with a significant number of enquiries," said Fazeela Kurji, international business development manager of Kenyan exhibitor, Keitt Exporters. "We were particularly impressed with the quality of visitors, and the organisers did a wonderful job – it was a very successful event."
Asia drives global growth
Asia remains the world's fastest growing market for fresh fruit and vegetables, importing close to 16m tonnes of fresh fruit from all origins in 2021, according to analysis in the Asiafruit Congress Statistics Handbook 2022.
China is the largest market for fresh fruit imports in the region, with volumes growing to 5.4m tonnes in 2021. As well as being a gateway to mainland China, Hong Kong is located at the centre of Asia, where more than 20 different markets play a significant role in the trade.
Tim Zhang, global purchasing manager of Chinese fruit importer Zhejiang Sango Trade Co, is excited about Asia Fruit Logistica's return to Hong Kong in 2023.
"With the impact of the pandemic lingering all over the world, a lot of industries are experiencing challenging times. Asia Fruit Logistica provides an effective platform for communication, which definitely promotes healthy development of the fresh produce industry," said Zhang. "We are very confident things will improve soon, and we're really looking forward to Asia Fruit Logistica getting back to Hong Kong in 2023."
Exhibitors can register to book their stand at Asia Fruit Logistica 2023 here.