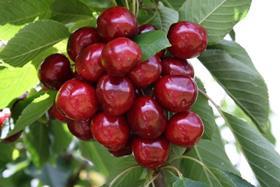 As the ChileanFruit Exporters Association's (ASOEX) Cherry Committee released its first export forecast for the 2019/20 season Chile has moved closer to gaining access to Vietnam for its cherries.
On 16 October officials from the Chilean and Vietnamese governments met to discuss the facilitation of agricultural trade between the two countries.
In this meeting the entry requirements for cherries from Chile to Vietnam, and grapefruit from Vietnam to Chile were reviewed and both countries hope markets for these products can be opened before Vietnam's Prime Minister, Nguyễn Xuân Phúc, visits Chile in November.
Negotiations aimed at opening access to Vietnam for Chilean blueberry and kiwifruit from next year were also conducted. lfonso Vargas, Chile's deputy secretary of agriculture, said Vietnam holds great potential for Chilean fruit.
'Vietnam, with more than 95m inhabitants and a potential growth of important middle class, is a great destination for fruit exports from our country," Vargas said.
"We must not forget that both Vietnam and all of South-East Asia are significant tourist destinations, giving excellent visibility to our fruit."
The Chilean cherry industry would be well-positioned to meet the demand of a new market if it gains access to Vietnam this year, as current forecasts predict a record year for exports.
ASOEX Cherry Committee released its first forecast for the 2019/20 season, which estimated cherry exports will reach 41.8m cartons (5kg), equivalent to 209,000 tonnes, a 16.1 per cent increase in volume from the 2018/19 season.
The committee predicts at the peak of the season, exports will exceed 8m cartons a week, with destinations expected to be similar to 2018/19. Last season which 92.3 per cent of total Chilean cherry exports destined for Asia, with China receiving 95 per cent of the volume sent to Asian markets.
Ronald Bown, president of ASOEX, said the industry had been preparing for this growth in production and export of cherries.
"We have been preparing in different ways; for example, through promotional actions that allow us to drive greater consumption," Bown said.
"China is the main destination market for our cherries, and a growing market, in general, for our fruit exports."
Cristián Tagle, president of the ASOEX Cherry Committee, agreed adding the focus of this campaign will be to maintain the quality that Chilean cherries showed last season.
'There is a sustained increase in packaging lines between 10 and 15 per cent, the last year, which shows that the industry is more prepared than two years ago to handle the growing volumes of cherries. Also, there is greater availability of fast boats."