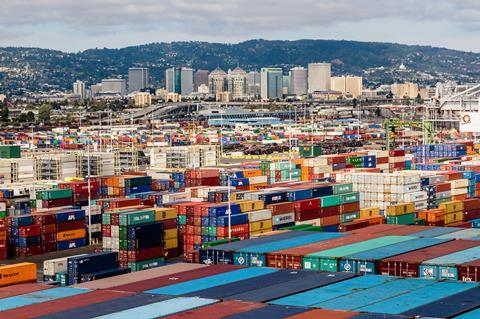 Ports across California have reported mixed results over the month of October.
In a statement issued last Friday (8 November), the Port of Oakland revealed 87,393 TEUs were exported through its terminals in October 2019, up 10.8 per cent on October 2018.
The statement came after the Port of Los Angeles pointed to the US-China trade war for a downturn in its export volume over the same month.
The Port of Oakland labelled the double-digit jump "positive", amid reports the trade war could be easing.
"Our export customers have demonstrated their resilience throughout this tariff standoff," said Port of Oakland maritime director John Driscoll. "For their sake, we hope the conflict is resolved and overseas business can grow even more."
Oakland's import volumes declined 4.6 per cent year-on-year in October 2019, though they remain up 2.7 per cent for the full year.
Through the first 10 months of 2019, Oakland's export volumes are up 3.5 per cent compared to 2018. In contrast, the Port of Los Angeles has recorded its 12th straight month of export decline.
Export volumes also rose at the Port of Long Beach, which reported on its 2nd busiest October in its 108-year history.
A total of 688,425 TEUs were handled by the Southern California port in October 2019, 2.4 per cent less than the same month last year. Imports dipped 7.4 per cent to 337,062 TEUs, while exports jumped 9.8 per cent to 131,635 TEUs. Empty containers delivered overseas decreased 0.8 per cent to 219,728 TEUs.
The Port of Long Beach has moved 6,366,787 TEUs during the first 10 months of 2019, 5.4 per cent down from last year.