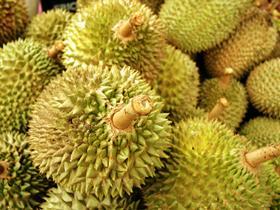 Malaysia's Federal Agricultural Marketing Authority (Fama)has purchased durians off growers in an attempt to prevent an oversupplied market as the country battle surging Covid-19 cases.
According to a report from The Star, Fama bought 150 tonnes of kampung durians from growers in Kelantan.
Wan Nora Wan Ahmad, Fama's Kelantan director said the agency worked with 600 growers in the districts in the districts of Jeli, Tanah Merah, Kuala Krai and Pasir Puteh.
"Kelantan is the largest producer of the kampung durian variety in the country, but the price has dropped due to the movement control order (MCO), making it difficult to market the fruit to other states, especially on the west coast," said Wan Ahmad.
Malaysia's MCO has created a number of challenges for the durian industry, including affecting its ability to process the fruit.
According to a report from Utusan Malaysia, Abdul Rashid Bahri, Fama's deputy director general (operations), said durian processing plants could not operate at full capacity directing increased volumes to the fresh market.
"Our previous estimate was that 60 per cent (of durians) would be sent to the factory for processing and another 40 per cent to be sold fresh in the local market," said Bahri.
'The price should not go down like this, but this time it happened because too many durians could not be processed."