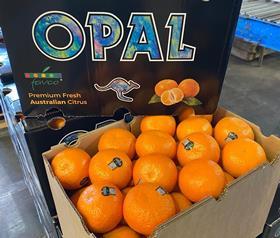 Family-owned, multi-generational fresh produce business, Favco, has announced the launch of its new Australianpremium citrus brand, Opal.
Honey Murcott mandarins grown at Favco's Mundubbera farms, in the North Burnett region of Queensland, will be marketed under the brand. All shipments to Asia will be direct from Mundubbera.
Favco's director Chris Deveney said the new brand will be available in (T35) 9kg and (C6) 18kg cartons, with the main target this season to grow brand awareness across key export markets, including China, Thailand and Vietnam.
"The new carton is a high gloss pre-print design, paying tribute to Australian provenance in every aspect, as well as incorporating the latest technology for consumers," he explained.
Deveney said there's nothing more iconic to Australia than an image of a kangaroo, a 'Grown in Australia' logo, and the fiery colours of an Australian opal.
Opal labels on each piece of fruit display the Honey Murcott variety name, a PLU barcode, Opal branding, the kangaroo image, and the Favco logo.
Favco has added the additional technology of a QR code on the sticker and carton, allowing global customers to see where the product was grown and how it was packed.