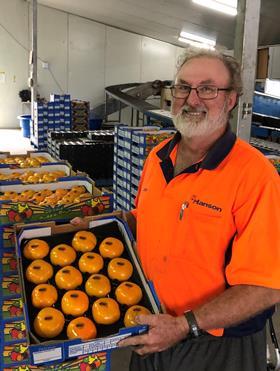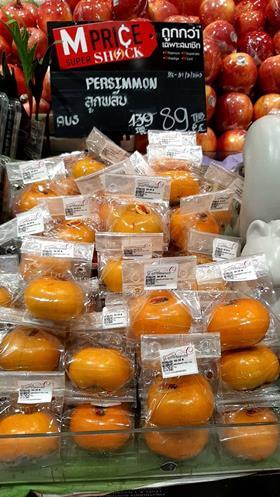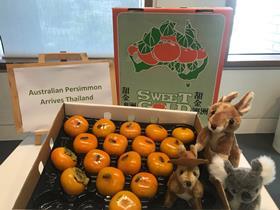 Australia has exported its first shipment of persimmons to Thailand using irradiation, marking a significant step forward for the persimmon and wider horticulture industry.
The shipment arrived and was cleared in Thailand on 27 March, but not before making it onto one of the few remaining flights before many international carriers decided to ground flights because of coronavirus (Covid-19).
This success also has wider implications for Australian horticulture as it is the first irradiated fruit sent to Thailand under the protocol signed in September 2018.
Ross Stuhmcke, the Queensland grower responsible for the first shipment, said it was a great achievement to get the persimmons to Bangkok.
"It has been far from an ideal season, with the drought and then rain during harvest but we were very committed to making this happen. This is an exciting opportunity for the persimmon industry and all horticulture industries," Stuhmcke said.
"What has been impressive with this trial is the real partnership between industry, government, the grower and the importer. All have played an important role in its success."
Thailand imports around A$23m (US$14m) of persimmons each year from the likes of Japan and New Zealand. The fruit's characteristics appeal to increasingly health-conscious Thailand consumers and this protocol gives the Australian industry an opportunity to carve out a share of this market.
Chris Stillard, president of Persimmons Australia hopes the success of this shipment will lead to the protocol being extended to other states - currently only Queensland persimmons have access to Thailand – as well as other categories of Australian horticulture.
"This is a positive example of state and federal governments working together in a cohesive manner to ensure the requirements of the protocol have been met at the farm right through to the importer in Thailand," Stillard said.
"It has not been an easy task to achieve this first shipment, there are a lot of steps in the chain from the farm to the market. However, now that we have proven this pathway and with hopefully better weather conditions next year, we are looking forward to doing an extended trial in 2021."
The fruit from this consignment sold out shortly after arrival and it is set to it provide the industry with buyer and consumer feedback to assist with marketing of next year's harvest.
The shipment also represents a milestone for irradiation and Ben Reilly of the treatment provider Steritech, said acceptance of the process is continuing to grow, giving exporters more options.
"Phytosanitary irradiation has been growing in both regulated acceptance and use around the world as a safe, fast and effective alternative to other heat and chemical-based processes," said Reilly.
"As markets seek fresher, higher quality fruit to meet increasing consumer demands, Australia has been a leader in the development and application of phytosanitary irradiation.
Reilly said irradiation can help increase the two-way trade between Australia and all Asian countries, not just Thailand.
"The counter seasonal supply of many crops is complimentary and helps build a stronger trade relationship," explained Reilly.
"Equally important to establishing two-way trade is ensuring Australia employs the most effective biosecurity controls for imports, to protect the local production environment. Phytosanitary irradiation allows a high degree of process control and is recognised by regulators around the world for efficacy.
'The 400Gy generic treatment for insects on all crops offers a simple, broad spectrum solution, helping growers meet export requirements without compromising quality.'