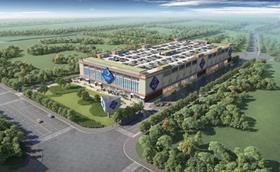 Sam's Club China has announced it will be opening a new flagship store in Shanghai in 2021, the company's third store in the city.
This will be the largest single-storey Sam's Club building in China with a total area of ​​approximately 70,000m2.
It will feature morethan 4,000 different products, many of which are exclusive to Sam's Club China with an emphasis on high-quality, fresh, safe, and nutritious products. There will also be direct imports from more than 30 countries and regions around the world.
Andrew Miles, president of Sam's Club, said the company had always invested to improve the shopping experience for its members and this was another example of that.
"Sam's Club has been China for more than 20 years and has been adhering to the concept of "member first" by continuously investing in goods, shopping experience and membership rights," Miles said.
"We are very excited to welcome the flagship store, which represents our commitment to members and the Chinese market."
The new store will also incorporate the company's omni-channel approach combining offline stores with e-commerce. Omni-channel members can purchase online and receive deliveries in one hour.