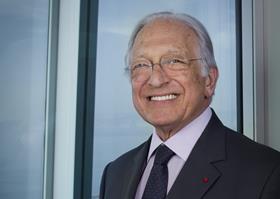 Jacques R Saade, the founding president of shipping conglomerate CMA CGM Group, has died on 24 June at age 81.
The entrepreneur had developed the company in more than 160 countries, positioning it as a world leader in the field of maritime container transport.
Saade began the company with four employees, a single ship and only one service between Marseilles and Beirut. In 1983, he sent his first ships beyond the Mediterranean Sea, and in 1986 launched a service linking North Europe to Asia.
Six years later, he opened CMA's first office in Shanghai, predicting China would become the world's factory.
Internal growth and strategic acquisitions saw the company strengthen in key markets, and in 2006 it became the third largest container shipping company in the world.
Last February, Saade appointed his son, Rodolphe Saade, to the position of chief executive officer at CMA CGM Group. In November he was also appointed as chairman of the board of directors.
Jacques received a number of accolades throughout his career, including an award from the Association of the Mediterranean Chambers of Commerce and Industry for encouraging economic development in the Mediterranean Basin, and conveying a positive image of the region to promote peace and tolerance.