Fresh Produce India opened with a look at how changing demographics, digitisation and a massive upgrade in logistics infrastructure will propel the growth of the consumer market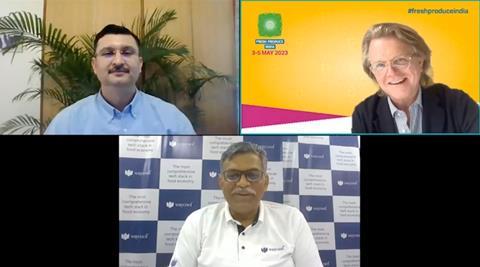 Consumers across India are becoming more aspirational and adventurous in the foods they buy, and major improvements in the nation's infrastructure will help suppliers to deliver on their expectations. That was one of the key takeaways from the opening session of Fresh Produce India 2023, which took place online on 3-5 May.
India's premier fresh produce event kicked off on 3 May with a live digital audience taking in the first session, 'India's future in focus'.
Fruitnet's managing director Chris White was joined by Saurabh Raina, assistant VP of fresh for India's largest grocery retailer, Reliance Retail, and Karthik Jayaraman, managing director of leading food distribution platform, WayCool Foods, with both speakers painting a positive picture of the consumer market evolution.
India has recently overtaken China to become the world's most populous nation, according to UN projections, with an estimated 1.426bn people. India's population is also youthful, with a current average age of just 29, and the session opened with a look at how these changing demographics are shaping the consumer market.
Jayaraman highlighted the rapid growth in the number of "earning-age consumers" as the most important trend, noting that it would lead to "a substantial increase in overall consumption".
He also identified "a subtler shift" where parts of India are "already moving from becoming an emerging economy to a middle-income country".
"Once a country becomes middle-income, consumers start making more informed choices about basic products. Of course, they have discretionary spend but most of that discretionary spend gets converted into buying better quality products for essential use."
Brands building
This shift is fuelling demand for branded products, he added. "Consumers are now starting to look for brands in products that once were treated as commodities. We're seeing it in the staples sector where big conglomerates are entering the sector because the consumer is saying, 'I trust that brand, I think it'll give me good quality'. We expect to see similar trends in the fresh produce space as the market continues to mature."
Turning specifically to shopper behaviour in fresh produce, Reliance Retail's Raina said consumers' understanding of safe food and awareness of health and nutrition have grown since the pandemic. Consumers are also becoming more experimental in their purchasing and trading up, which "augurs well for the industry", he noted.
"What we see in our stores is two trends: one is premiumisation of basic commodities, like switching from regular bananas to MRI-tested bananas; the other is superfoods like blueberries and avocados gaining traction," said Raina.
The discussion also looked at how India's rapid digitisation is changing the market. Consumers have strongly embraced digital technologies, White noted, with most of the population carrying a mobile phone and many government services available online.
"Early days for e-commerce"
While e-commerce has been taking off in India, its influence on the fresh produce market has been limited to date, the panel noted.
"It's very early days for e-commerce in India," said Jayaraman. "What we're seeing is the trade-off of unit economics versus convenience and variety, versus ability to touch and feel being played out in the markets.
"Consumers still like to go out at the weekend to touch and feel products and enjoy the physical experience for most of their purchases. But for convenience, they rely on e-commerce to get something like onions in a hurry for today's cooking. Variety has also been a driver for e-commerce, as they can get stuff on online platforms that they can't find in their neighbourhood store."
Jayaraman added that the "unit economics for last mile delivery to the doorstep still had to be demonstrated" for e-commerce. "It's still very much work in progress, and I think the consumer will be a mixed buyer, where they'll go to their neighbourhood store, the supermarket as well as ordering online – they'll exhibit different behaviours."
Digital drives aspiration levels
India's "extreme digital connectivity" is having a stronger impact in terms of driving uniformity of aspiration levels across the country, Jayaraman added.
"Consumers in remote locations now want exactly the same products that consumers in Mumbai want. And many of them can afford to pay for it because their other expenses are lower and net income in smaller towns is not bad," he said.
"What will happen over the next five years is not that e-commerce per se takes off, but that aspiration takes off because of the digital democracy and physical infrastructure catching up to be able to deliver the service or product to the remotest parts of the country."
Indeed, India is going through what has been described as an "eye-wateringly huge" transport infrastructure upgrade, and this is set to be a game changer in market development.
Five years ago, Jayaraman said it was impossible to find end-to-end cold chain logistics solutions, but such services were now becoming available, albeit not yet on a pan-India scale.
Another key shift he noted was the improvement in the speed of delivery by road and rail. "The integrated logistics programme India has launched – Gati Shakti – is improving intermodal logistics efficiency and the expressway programmes are truly increasing the velocity of movements. Average speeds have increased by at least 5-10km per hour from 50km previously, and we anticipate they'll increase to 70-80km per hour in future.
"This will help us move sensitive goods to deeper parts of the country. For example, it used to take more than 24 hours to move produce from Mumbai to Nagpur, but now it's possible to do it in half a day."
Expert interviews
Fresh Produce India 2023 continued online on 4-5 May with exclusive feature interviews released on the website each day.
On Day Two (4 May), Tarun Arora of IG International discussed the leading Indian fresh fruit importer's foray into domestic production projects as well as its moves into related sectors, from precision agriculture to packaging.
Westfalia Fruit's Alk Brand and Zac Bard talked avocados, examining India as the next frontier for the increasingly popular fruit.
On Day Three (5 May), Fresh Produce India charted the next steps for India's table grape industry with a session on the introduction of proprietary varieties featuring Azhar Tambuwala of Sahyadri Farms.
Citrus Australia's David Daniels also discussed the Southern Hemisphere exporter's efforts to develop market for premium citrus in India.
Watch all the videos from Fresh Produce India at the website www.freshproduceindia.com