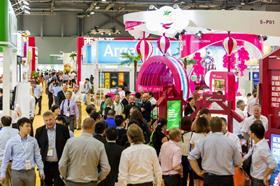 More than 13,000 top-level visitors from over 70 different countries are set to attend Asia's premier continental trade show for fresh produce marketing, which returns to AsiaWorld-Expo Center in Hong Kong on 5-7 September.
In addition to the unrivalled business opportunities at Asia Fruit Logistica, visitors will be able to access practical insights and solutions for better fresh produce marketing and business management through a programme of Hall Forums on the show floor.
Exhibitors from 46 different countries have signed up to showcase their products and services at Asia Fruit Logistica, which will feature a wide range of global offerings from every continent, and from across the value chain.
Varietal innovation is driving the fresh produce business forward, and a host of exciting new products will be on display.
The Washington Apple Commission plans to offer tastings of Cosmic Crisp, the bright-red apple variety due to make its commercial debut in 2019; Italian consortium Jingold will be gearing up for its new-season kiwifruit campaign, which will feature a red variety for the first time; Japanese company Tokita Seed will launch a new mini plum tomato available to taste at its stand; and new table grape varieties will feature strongly, with South Africa's Exsa and Peru's Fundo Sacramento both promoting IFG-bred varieties such as Sweet Globe and Sweet Sapphire.
A range of technologies will also make their debut at Asia Fruit Logistica. Dutch company Interko will showcase its new Optimo smart ripening system while sorting and grading company BBC Technologies will introduce its new Curo 2 filling solution to the Asian market at the show.

Develop your business with Hall Forums
Visitors will be able to benefit from practical industry solutions and advice on the show floor at ASIA FRUIT LOGISTICA through an information-packed programme of Hall Forums.
At Hall Forum 1, Asiafruit Business Forum will offer practical ideas and solutions for better fresh produce marketing. On Day One, which focuses on Production and Trade, Andriy Yarmak from the United Nations Food and Agriculture Organisation will offer his expert perspective on opportunities for Eastern European exports to Asia. "Ukraine should pay particular attention to fruit marketing opportunities in South East Asia," says Yarmak.
For advice on how to market their products more effectively, such suppliers should attend Day Three's closing session at Asiafruit Business Forum, an informative workshop with Jerry Clode, director at Resonance China, who will discuss the keys to localised branding success in Asia. Clode has worked with a number of high-profile clients including Disney and Harbin Beer, and will offer practical advice accompanied by his most recent client, avocado brand Avanza.
Cool Logistics Asia and Smart Horticulture Asia – taking place at the concurrent Hall Forum 2 – will feature expert advice on cold chain management and hi-tech horticulture respectively.
Attendees at Cool Logistics Asia can gather insights on topics such as changes in perishable trade patterns, maximising cold chain investments, and the role of packaging in role for preserving freshness in the supply chain.
Jeremy Nixon, CEO of new liner shipping company Ocean Network Express, will deliver a keynote presentation on Day 2 at Cool Logistics Asia discussing the challenges and changes to expect from the container shipping and reefer industry. He will be joined on the cold chain investment panel by Gerry Yim, CEO of world leading container terminal operator Hutchison Port Holdings Trust.

Smart Horticulture Asia will turn the focus on hi-tech horticulture in afternoon sessions at Hall Forum 2, examining the opportunities presented by blockchain, futuristic solutions such as robotic pickers, and digital growing in a digital supply chain.
Tom Coen, CEO of robotics startup Octinion, will discuss the development of the company's strawberry picking robot and its potential impact on the horticulture industry. Coen says the machine can currently pick at a rate of one strawberry every four seconds. Darryn Keiller, CEO of Autogrow, will discuss data-driven growing, explaining how data can be used to raise yields, cut costs and support more sustainable production.

Need a head start? Attend ASIAFRUIT CONGRESS

Join delegates to Asiafruit Congress, Asia's premier fresh produce conference and networking event, the day before Asia Fruit Logistica. Expert speakers will share valuable insights on the latest market trends and developments in the fast-moving Asian markets.
Celebrating 20 years of bringing businesses together in Asia, this year's milestone Asiafruit Congress kicks off with a look back on two decades of change in Asia's fresh produce business with panellists Noel Shield of Joy Wing Mau Asia, Patrick Vizzone of ANZ Bank and Stemilt's Bill Young.
In other sessions, IGD's Asia programme director Shirley Zhu will outline Asia's future retail market – a session not to be missed after IGD released a recent report on the exponential growth of Asia's online grocery sales – while Jongkyu Jang, director of Latitude, will provide a consumer market focus on South Korea.
In addition to Asiafruit Business Forum, Cool Logistics Asia and Smart Horticulture Asia, the new Media Studio Asia Fruit Logistica features on the show floor this year, hosting quick-fire interviews with key industry figures on a range of exciting developments and innovations.
Purchase your tickets for Asia Fruit Logistica and Asiafruit Congress online at the Asia Fruit Logistica ticket shop.