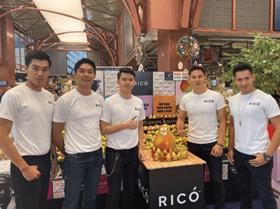 Freshmax Australia will leverage its experience with new varieties, including the successful Modi and Piqa Boo brands, in promoting Rico pears during the fruit's second commercial season.
Freshmax Direct chief executive, Will Snell, said he was enthusiastic about the opportunity to market Ricó pears both domestically and to their export markets.
"Ricó pears are a perfect fit with our existing pear brands," noted Snell. "High quality pears are in demand and we look forward to offering Ricó pears to our customers."
Branded varieties of apples and pears have continued to gain traction globally. Brands that are supported by targeted marketing and promotional activity, quality control, and a focus on building consumer trust have gained strong following around the world.
The ANP-0131 variety behind the Ricó brand was bred by the Department of Job, Precincts and Regions (DJPR) in Tatura, Victoria, as part of a breeding programme to bring better eating, blush-coloured pears for Australian growers. Production is based in the Goulburn Valley, Victoria.
The pear has exceptional eating quality and its taste, texture and sweetness have rated highly with consumers. APAL manages the brand and set out to develop a brand that would reinvigorate the pear category.
Consumer research commissioned by APAL, and others, showed pears are suffering an image problem, seen by some as old fashioned.
A consumer's comment that "pears are the quietest fruit in the fruit bowl" triggered an 'aha' moment for Dean Millson of creative agency Di Marca which conducted the research for APAL.
"When people thought of pears, they thought of their Nanna's fruit bowl," said Millson. "People had fallen out of love with pears, hence the Ricó brand, a brand that is distinctive, doesn't take itself too seriously, and is a departure from the typical fruit branding."
Accompanied by a quirky marketing campaign and featuring the tagline 'Finally a pear with personality', it is hoped Ricó will appeal to a whole new generation of pear eaters, with its appealing bright red blush helping it to stand out on-shelf.
Freshmax joins Seeka Australia and Plunkett Orchards as marketers for the Ricó.
Growing and supporting pear exports is a focus for APAL and Ricó is already attracting good support in key export markets.
Ricó had its export market launch at the high-end retail chain Tops in Thailand in 2019 and Tops will again play host to in-store promotion and brand marketing this season. Further export destinations are also being developed across Asia, the US and New Zealand.
APAL's industry services and export manager Justin Smith said Ricó was very well supported by Tops supermarket last year and feedback was very positive.
Smith was particularly pleased with the current Ricó promotion at Tops, particularly given the uncertainty caused by Covid-19.
"We were cautious going into the start of this program starting in August," explained Smith. "However Tops have recently confirmed a significant uplift in their requirements for the rest of 2020. Thai consumers have remembered Ricó from last year and returned to buy it again."
Andrew Plunkett of Plunkett Orchards said Ricó would also be exported to New Zealand this season for a second year.
"It was great to have a new blush pear to offer in New Zealand," he said. "The fruit travelled well and was well received in the market last year. We have increasing volumes heading across this year."