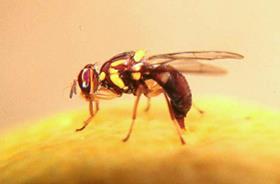 Restrictions on the movement of fresh produce in and around Whangarei have been lifted following no further detection of Queensland fruit fly.
In a New Zealand government press release, the minister for Primary Industries Nathan Guy expressed appreciation for the professional response by biosecurity officials and people's cooperation during the operation.
"It's very pleasing that no other fruit fly has been found and that this appears to be a solitary insect," said Guy.
"This detection is a very rare event and shows we have a high performing biosecurity system.
"I want to thank the people of Whangarei for their support and patience over the last two weeks.
"Locals have been very supportive of this operation. They realise how important it is to treat this response seriously, and their cooperation has been great.
"I've visited Whangarei twice in the last fortnight, and what I've seen is a very rapid, professional and thorough response by the ministry.
"Agencies involved in the response have done an excellent job of communicating with local people and searching carefully for any signs of further fruit flies. This has involved extra trapping and fruit collection through the temporary laboratory."
Guy added that the ministry would review their performance and consider any measures needed to improve their systems.