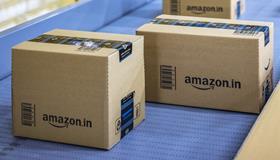 Amazon India will become the official online retail channel for Future Retail and its retail chains after the two companies announced new, long-term agreements on 6 January.
Groceries are among the number of Future Retail categories that will be sold through Amazon and the two companies said the agreements will help build on the offline and online capabilities of both organisations.
Future Retail will list on the Amazon Prime Now program, allowing consumers to have food, groceries and general merchandise delivered within two hours in Delhi, Mumbai, Bengaluru, and Hyderabad. It also plans to list stores its stores, including Big Bazaar, and Foodhall in more cites on the Amazon India marketplace.
The agreements will also facilitate the development of existing store-infrastructure at Future Retail outlets allowing for seamless packaging and pickup of products ordered online.
This service has already been launched in 22 stores and Future Retail and Amazon India plan to scale-up the service to more stores across the country.
Kishore Biyani, chairman and managing director and Future Retail Limited, said the shared values of the companies should enhance their collaboration.
"This arrangement will allow us to build upon each other's strengths in the physical and digital space so that customers benefit from the best services, products, assortment and price," Biyani said.
Amit Agarwal, senior vice-president and country head of Amazon India, was excited by the potential of the new agreements.
"We are excited about the business collaboration with Future Retail," Agarwal said.
"Future Retail's national footprint of stores offering thousands of products across fashion, appliances, home, kitchen and grocery will now be available to millions of customers shopping on Amazon.in, in hours across more than 25 cities."