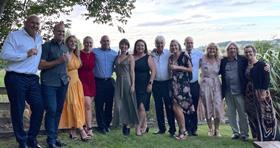 Golden Bay Fruit was recognised at last week's 2021 New Zealand Trade and Enterprise International Business Awards (NZIBA). The leading apple and pear grower-exporter secured Highly Commended in the Best Established Business category, coming second only to Seequent.
The NZIBA are New Zealand's most prestigious export awards, with a 57-year history and many high-profile previous winners, according to a statement from Golden Bay Fruit. This year's list of companies in the Best Established Business Category included Bluelab, Whittaker's and Wyma Engineering.
"This year set a record number of entries with over 100 New Zealand companies pitching for the eight awards on offer," said Golden Bay Fruit's managing director, Heath Wilkins. "Our pitch, presented by myself and [marketing director] Eleni Hogg, was highlighted by the Awards' independent panel of judges as one of the very best."
Wilkins thanked Golden Bay Fruit's partners, saying: "Our efforts, our business, our people and our contribution to the wider New Zealand economy have been formally recognised and it's something we can take great pride in."
The recognition at the NZIBA marks a busy start to the new year for Golden Bay Fruit. The company opened an office in Vietnam in January to better service its growing customer base in the country. It is making its first commercial shipments of new variety, Sassy this season, under its joint venture Next Generation Apples, with Hawke's Bay-based Taylor Corp. The company is also gearing up to roll out a brand refresh in March.
A full report on Golden Bay Fruit appears in the March edition of Asiafruit Magazine, our annual New Zealand Special. To order your copy, email subscriptions@fruitnet.com, or download the Asiafruit app to your smartphone or tablet from theApp StoreorGoogle Play.