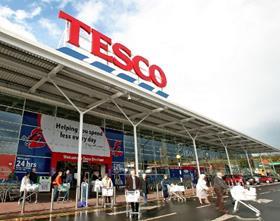 Tesco, the UK-based retail giant, has reported an increase in underlying profit before tax of 10.3 per cent to €1.83bn for the first half (H1) of 2008/09, with group sales jumping 14.1 per cent to €35.3bn.
This despite a slowing global economy leading to 'emerging evidence' that consumers have been trading down in some food categories, Tesco said, and the increase in market share of rival discounters such as Aldi and Lidl in core markets such as the UK.
'Tesco is at its best in tough markets – responding to the changingneeds of customers – and that's why we have been able to make goodprogress this year despite facing into powerful economic headwinds andcarrying planned start-up losses in the US,' said Tesco's chiefexecutive officer Terry Leahy. 'Our business is strong, broadly-based,increasingly international and, I believe, well-placed not just to copewith the challenges which lie ahead but also to grasp the growthopportunities open to us by continuing to invest in our strategy.'
During the 26 week period ended 23 August, European sales rose 33 per cent to €5.9bn, with sales in the domestic UK market up 9.7 per cent to €25.3bn.
International sales achieved solid growth of 26.8 per cent at actual exchange rates, helped by €95.6m from the inclusion of US sales for the first time, with Asian sales up 16 per cent at actual exchange rates.
'Despite challenging economic conditions and political uncertainty in some markets, our international businesses have delivered another good performance,' Mr Leahy said. 'Despite unhelpful trading conditions in our two largest Asian markets – Korea and Thailand – and the short-term costs involved in building the platform for rapid expansion in China, we have made good progress in Asia.'
Click here for a full version of Tesco's H1 interim results and management report 2008/09