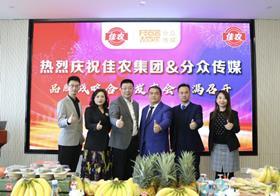 Goodfarmer has secured a major brand development partner after signing a strategic partnership agreement on 16 January with Focus Media, which operates China's largest out-of-home advertising network.

The two parties have agreed to promote Goodfarmer's brand and products across Focus Media's advertising terminals during peak hours in a high-frequency and high-density manner, focusing their efforts on high-impact and high-occupancy residential blocks and office buildings. The partners believe this strategy will significantly improve Goodfarmer's brand awareness among consumers.

Liu Zijie, chairman of Goodfarmer Group, said the partnership with Focus Media signifies the start of "a brand development era" for Goodfarmer. He wants the Goodfarmer brand to be a consumer's first choice when buying high-quality fruit.

"Fruit was considered 'general goods' in the past, possessing no or very little brand power. When a business is largely homogeneous, it is a challenge for growth and development," he said. "The strategic partnership with Focus Media marks the third evolution of Goodfarmer, which is all about making the brand."

The new campaign will first roll out in Beijing, Shanghai and Shenzhen. As Goodfarmer's most-traded fruit category, bananas will be a focus in the initial rounds of promotions, with pineapples, young coconuts and durians also featured.