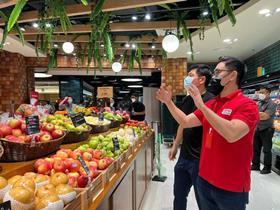 South-East Asian superapp Grab announced that it has completed its acquisition of a majority stake in Malaysian supermarket chain Jaya Grocer.
Grab announced its intention to acquire its stake in Jaya Grocer at the end of 2021 as part of a plan to accelerate on-demand grocery delivery in Malaysia.
Prolonged movement restrictions and consumer concerns about safety and hygiene caused by the Covid-19 have led to a boom in the adoption of online grocery shopping. According to data from the e-Conomy Southeast Asia 2021 report, 64 per cent of South-East Asia's internet users purchased groceries online at least once during the pandemic.
Anthony Tan, group chief executive and co-founder of Grab, said online grocery demand has remained elevated even as restrictions eased and the move will improve Grab's capabilities in Malaysia.
"It is our vision to make on-demand groceries more accessible for everyone. Jaya Grocer is known for their wide selection of good-quality fresh produce and grocery products," said Tan.
"By combining our extensive on-demand delivery fleet and capabilities, with Jaya Grocer's strong retail presence and supplier network, we can have these quality products delivered to more homes even faster. We believe this partnership will further accelerate the growth of our groceries delivery business, and we are excited by the immense opportunity ahead of us."