Superapp works with Indonesian Market Management Association to add markets to GrabMart Pasar programme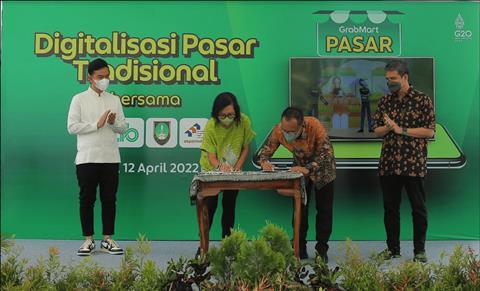 Grab has partnered with the Indonesian Market Management Association (Asparindo) to help digitise traditional markets across the country.
The pair signed a cooperation agreement at Legi Market in Surakarta that will see markets and SMEs (small and medium-sized enterprises) incorporated into Grab's GrabMart Pasar programme.
The programme will be implemented in cities across the country such as Jakarta, Surabaya, Bogor, Bali, Palembang and Medan. Grab has set a target of digitising 4,600 traditional market SMEs by the end of 2022.
Neneng Goenad country managing director of Grab Indonesia said the company was committed to bringing the country's markets online.
"As the leading super application in South-East Asia, Grab is the government and various stakeholders' main partner of choice in the effort to digitise SMEs in Indonesia. We believe in the potential and superior competitiveness of Indonesian SMEs," said Goenad.
"Therefore, we are excited to present the GrabMart Pasar programme to facilitate market traders and SMEs in adopting technology and entering the digital economy ecosystem. We hope that Grab's support can help Indonesian SMEs contribute to sustainable regional and national economic growth."
Chairman of Asparindo Joko Setiyanto said the pandemic had encouraged people to shop and do business digitally and markets needed to be able to service this demand.
"Digital adoption is needed for traditional markets in order to adapt and improve services to meet the needs of the community," said Setiyanto.
"Through this collaboration with Grab Indonesia, it is hoped that it will accelerate the pace of digitalisation of traditional markets so that they can continue to exist and develop into modern traditional markets that are solid and globally competitive."
The collaboration includes a number of initiatives such as digital market activation, which will give SME partners the opportunity to join the Grab digital ecosystem as Grab merchants and take advantage of digital payment methods.
Grab will provide digital training programmes, webinars and education for SMEs in order to improve digital market literacy and help empower digital businesses to increase value.
The strategic collaboration will also hold various kinds of events both offline and online, that will be available to participants.