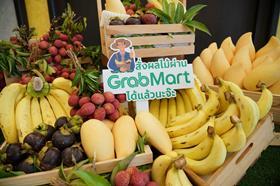 To help support fruit growers affected by Covid-19, Grab Thailand has announced it will incorporate fresh fruit deliveries into its e-commerce platform GrabMart.
Grab Thailand is the local division of Singapore-based technology company Grab, and it has worked with Thailand's Agriculture and Cooperatives Ministry on this new service.
According to a report from the Bangkok Post, this new campaign is called Grab Loves Thais will bring mango, durian, lychee, mangosteen and bananas to consumers in Bangkok.
Kengkran Louvirojanakul, head of public affairs for Grab Thailand, said the campaign was designed to help growers overcome hardship following the Covid-19 pandemic.
The fruit will be sourced from various parts of the country and delivery will initially be available in Bangkok via two distribution centres in Bangkok. However, Grab plans to open another 10 centres by the end of July.
Alongkorn Ponlaboot, an adviser to the agriculture and cooperatives minister, told the Bangkok Post this campaign will make the most of Thailand's e-commerce sector.
'Enabling farmers to use digital platforms could ensure better product prices as farmers can reach customers directly,' said Alongkorn.
Grab Thailand expects to fulfil 40,000 orders of fruit by the end of the year.
Asiafruit is now available to read on your phone or tablet via our new app. Download it today via theApp StoreorGoogle Playand receive a two-week free trial along with access to previous editions.