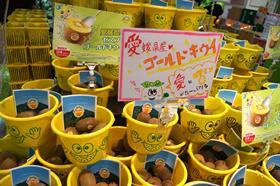 Through the first six months of 2020 the price of fruit in Japan was the highest it has been for the decade, resulting in lower levels of fruit consumption.
According to data from Japan's Ministry of Internal Affairs and Communications, in the six months to 30 June 2020, the average price of fruit per household in Japan was ¥518 (US$4.86) per kilogram.
In comparison, the average price of fruit over the same period since 2011 was ¥463 (US$4.34) per kilogram.
As a result of these prices, overall fruit consumption dropped even though expenditure rose.
For the first half of 2020, fruit consumption dropped to 31.52kg per household, the second-lowest total since 2011 and 5.5 per cent below the ten-year average.
Fruit expenditure per household in Japan rose to ¥16,341 (US$153.31), the highest it has been in a decade and a 5.7 per cent increase on the ten-year average.
Two categories that have bucked the wider trend are kiwifruit and banana, both of which had historically strong starts to the year.
From January to June 2020 banana consumption reached its highest levels since 2012, totalling 9.88kg per household.
Kiwifruit consumption also broke records with 1.233kg consumed per household, the most consumed through the first six months of a year in any year.
Jack Moriya, president major Japanese wholesaler and importer Tokyo Seika, said a consumer focus on health drove demand for these fruits.
"Japanese consumers perceive bananas and kiwifruit to be the healthiest of fruit, and have consumed greater amounts as a result," Moriya said.