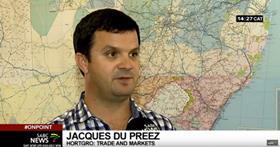 Hortgro, South Africa's apple and pear grower association, is set to expand its promotional campaign in India in the upcoming season, following the successful launch of its market development programme in 2021.

The industry body reported a "remarkable upsurge in demand" for South African apples and pears in the Indian market in the 2021 season, with sales boosted by its debut marketing campaign in the country.

According to industry data, sales of South African apples in India reached almost 768,900 cartons (9,610 tonnes) in 2021, representing a more than three-fold increase on the previous year's tally (183,000 cartons in 2020).

Pear sales topped 1.57m cartons (19,675 tonnes), an increase of around 43 per cent year-on-year (1m cartons in 2020).

"Last season (2021) was the first time we tested the water with our market development programme," said Hortgro's general manager of trade and markets, Jacques du Preez. "The support, interest and participation from importers exceeded our expectations and we will increase our activities in 2022."

Hortgro's India campaign comprised a range of marketing activities targeting key stakeholders to boost awareness of South African apples and pears under the slogan 'Beautiful Fruits from the Beautiful Country'.

Hortgro's India representative Sachin Khurana said South African apples and pears "had trended" among India's trade and consumers in 2021, enjoying "phenomenal growth".

"The South African pomefruit growers, packers and exporters are delighted with the love India consumers have showered on [their fruit] and we are committed to supplying Indian consumers with excellent quality and great tasting products," said Khurana. "I see a lot of interest and enthusiasm from large importers and retailers from India in the business possibilities that South African produce brings."

Royal Gala dominated South Africa's apples sales to India in 2021, holding a 69 per cent market share, followed by Granny Smith (6 per cent) and Topred/Starking (5.5 per cent). In pears, Packhams Triumph was the leading seller, accounting for 46 per cent of total imports, followed by Forelle (25 per cent) and Vermont Beauty (23 per cent).

Du Preez said he was hopeful South Africa's protocol for shipping apples and pears to India would revert to in-transit cold sterilisation in 2022, further boosting sales.

South African apples and pears are now readily available in India at modern retail outlets, neighbourhood stores, push-cart vendors as well as leading online stores, according to Hortgro.