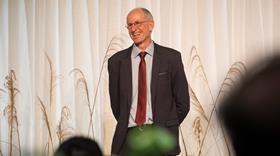 Ian Greaves has been recognised for the life-saving pastoral care he provided to the New Zealand kiwifruit industry during the country's Psa crisis.
Greaves accepted the Fresh Carriers Hayward Medal at the industry's Momentum 2020 conference dinner in Mount Maunganui last night (13 February).
During the Psa outbreak, Greaves brought together a team of volunteers and created a health and wellness plan, which provided a variety of services to support growers. Under his Grower Support Network, which launched early in the Psa outbreak, he helped arrange industry-wide seminars, counselling, grower discussion groups and other support avenues in growing regions across New Zealand.
"The outbreak of Psa was truly distressing for our kiwifruit growers and the wider industry, and an event that would forever change the trajectory of our industry, putting those involved in the industry at the time under real pressure," said New Zealand Kiwifruit Industry Advisory Committee chair and Zespri director, Tony Hawken.
"However, as a grower himself during the outbreak, Ian stood up to advocate for mental health awareness and suicide prevention within the kiwifruit industry. He established a support system that previously didn't exist, and which ultimately saved lives."
Greaves was the recipient of the Kiwibank Local Hero Award in 2013. He was also awarded the inaugural HortNZ President's Award in 2015 for his life-saving pastoral support, with his work now being used as an example for other rural industries.
The Hayward Medal was established in 2012 to honour the dedication, knowledge, excellence and passion 
of the New Zealand kiwifruit industry's world-class leaders.
"The judging panel unanimously awarded Ian this year's Fresh Carriers Hayward Medal," Hawken said.
"Ian showed true leadership and selflessness during the Psa outbreak. Our wellbeing is so important, but often in times, rarely considered or talked about. Ian understood the anguish our people were feeling, and he was motivated to step up, even though he was an affected grower too."
Hawken noted Greaves' compassion extends beyond the kiwifruit industry. He has helped raise funds and establish micro-enterprises in India that employ people out of poverty. He has also served as chairman and trustee of The Life Foundation, which operates a home that takes in distressed children and abandoned babies, also in India.
"We're delighted to have had a great range of nominations this year, and congratulate Ian for the huge contribution he has, and continues to make, to our industry," Hawken said.
The Hayward Medal is named after the Hayward cultivar, which takes its name from horticulturalist Hayward Wright. Greaves joins an illustrious honour roll, which includes David Stevens (2017), Sir Brian Elwood (2015), Leo Mangos and Paul Heywood (2014), John Palmer (2013) and Russell Lowe (2012).
Asiafruit journalist Liam O'Callaghan has travelled to Mount Maunganui this week to attend Momentum 2020. Stay up to date with the latest news and key developments from the conference via his Twitter account @liamfruitnet.