Cherry growers begin planting new Cheery Cherry varietals
International Fruit Genetics (IFG) is helping retailers meet growing demand for high quality early-season cherries.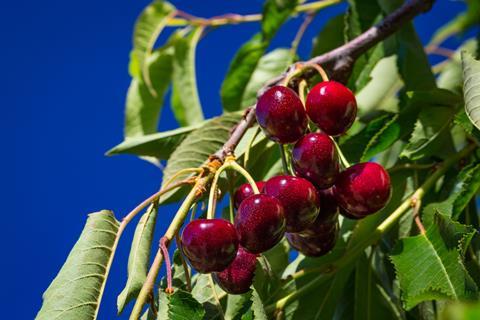 In February, the breeding company added more varietals to its low-chill cherry programme, including the new trademarked offerings under its Cheery Cherry line – namely Cheery Cupid, Cheery Nebula, and Cheery Chap.
Growers worldwide have begun planting the new Cheery Cherry varietals – most notably in Chile.
"We wlcomed growers in the orchards of Northern Chile, in Ovalle, IV region, to showcase our Cheery Cherry varieties," said Alwyn van Jaarsveld, IFG's international commercial cherry manager. "In 2016, the first Cheery Cherry variety to be commercially planted was Cheery Moon, and acreage for all Cheery Cherry varieties has expanded to more than 120 acres (50 ha) today."
In addition to Chile, IFG licensees are starting to harvest low-chill cherries in areas where the fruit is rarely grown due to warmer climates.
Given the growing popularity of the IFG low-chill cherry programme, many growers are installing the cooling infrastructure needed to make the low-chill efforts a reality.
"Our growers now have access to the markets, packhouses, and cooling and shipping routes – everything they need to grow and distribute quality low-chill cherries," said van Jaarsveld. "And this is very lucrative for the growers and the retailers as IFG has helped them expand their window for cherry season."
All of IFG's low-chill cherries are early harvesting.
"Early is important, but there is a caveat – these cherries must be fully formed, large, tasty, and crunchy, with great flavor that will set the tone for a great cherry season," said van Jaarsveld.
"Low-chill cherries allow retailers to begin the cherry season several weeks earlier, but they must do so without disappointing consumers – which means we cannot allow the early cherries to be small, tasteless, or soft."