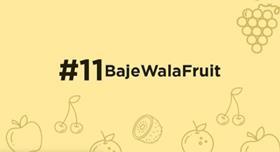 IG International has launched a new social media challenge designed to encourage consumers to eat more fruit in the morning and promote a healthy lifestyle.
The #11amfruit campaign begins on 27 November and asks consumers to take a video clip or a selfie with their favourite fruits at 11am. They can then share it with IG International's social media channels and challenge friends and family members to do the same.
The leading Indian fresh fruit importer is hoping to highlight role fruit plays in a healthy diet, particularly in the wake of the Covid-19 pandemic.
"After the coronavirus outbreak, as the importanceof a healthylifestyle has risen, we havecome up with campaign #11amfruit to promotethe importance of having a healthy diet," IG International said in a release.
"When you talk about a healthy lifestyle, fruits play a very important role, but it is also very important to have them at the righttime to reap all its benefits."