Innovative system designed to control the ripening of avocados
Italian-based Ilip has unveiled the Smart Ripe Trolley.
The innovative IoT (Intelligence of Things) system monitors the ripening process of tropical fruits, in particular avocados.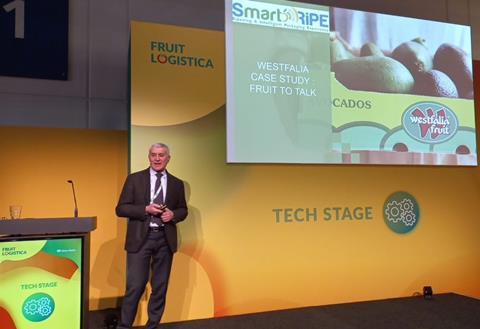 RFID tags and sensors installed on the trolley are used to measure the ripeness of the fruit inside a ripening room. The results of the control are then shown in real time on a digital platform.
Launching the Smart Ripe Trolley at Fruit Logistica's Tech Stage this week, Ilip's research and development manager, Luigi Garavaglia, said the system would improve ripening efficiency without compromising fruit quality.
"The Smart Ripe Trolley, patented by Ilip, has been designed for fruit and vegetable operators and, in particular, for importers of tropical fruit and manufacturers of climate and ripening rooms with ethylene," said Garavaglia.
"It satisfies the need to estimate ripening without generating inefficiencies due to the alteration of the protected environment inside the room each time it is opened.
"This solution allows for the distribution to the market of ready-to-eat fruit, in respect of the protocols of modern organised distribution and guaranteeing constant quality standards."
The Smart Ripe Trolley is the result of collaboration between Ilip's research and development department and the innovation department of Westfalia Fruit Group, a leading avocado grower-packer.
It follows the launch of Ilip's Smart Ripe solution in 2019, which was designed for the retail sector.
"After the first presentation at the 2019 Fruit Logistica Tech Stage of the Smart Ripe in trays for the individual fruit for the retail sector we were contacted by Westfalia Fruit," said Garavaglia.
"They described their need to assess the progress of ripening of avocados in the ripening rooms, which are a sealed environment containing ethylene, without invasive tests on samples of the fruit and without opening the room. Doing so each time interrupts the treatment and modifies the atmosphere, requiring subsequent restoring of parameters."