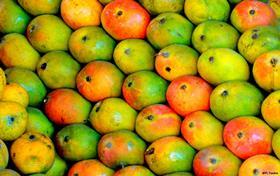 India has turned its attention to its neighbours to its East as well as the Middle East as it looks for new buyers for its mangoes. Making up almost half of the country's exports (40 per cent), the government has organised fruit-themed festivals and in-embassy tasting events in a bid to boost flagging exports of the country's national fruit.
South China Morning Post (SCMP) reports lockdown restrictions and higher freight costs have impacted the country's mango exports.
The agricultural export arm of India's commerce ministry has organised virtual buyer-seller meet-ups and held mango festivals in Bahrain, Kuwait, and Qatar recently.
Embassies in Japan, South Korea and Dubai have been involved as well, hosting mango-tasting events and sending out promotional consignments of the fruit to local Indian restaurants.
India's mango exports to Japan and South Korea have increased to around 100 tonnes, having previously amounted to 20-25 tonnes and 30-40 tonnes in each market respectively.
In June, the authority organised a week-long promotional campaign in Bahrain, with 16 varieties of mango on show at supermarkets across the Gulf island nation, sourced from farmers in the eastern Indian states of West Bengal and Bihar.
Cultivars with shorter shelf lives, such as the Chausa and Langda varieties, are often put front and centre at these types of events, according to SCMP.
Since 2015, Indian authorities have required all mangoes bound for Europe and the UK be hot water treated (HWT) before export to remove any fruit flies or other contaminants.
Ankush Saha, secretary of West Bengal Fresh Fruits and Vegetables Exporters Association, said this step was still being insisted upon by Indian authorities, despite the UK and Europe relaxing the mandatory step this year.
Calling such measures "detrimental", SCMP reports Saha urged the government to do more to help India's struggling mango exporters by focusing on fixing issues that already existed, not just hunting for new markets.